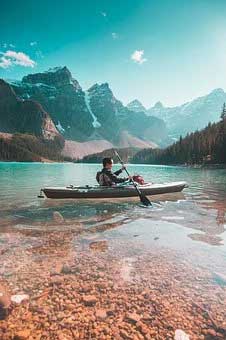 Kevin K. Howard, founder and editor of Kayak News, has been kayaking since he was 15 years old. What began as a summer course to entertain himself during the holidays, ended up being his passion.
After finishing the summer course, Kevin decided to dedicate himself completely to this activity. Every weekend, he went to the outskirts of town to practice. He remained disciplined for several years until he had his first competition at the age of 20. He came in third place, which motivated him to continue practicing.
By the time he was 22, he felt completely ready to participate again, winning first place in the national competition.
After this triumph, he devoted himself to teaching. It was no longer just a weekend practice, as it was now his full-time job. His popularity grew and he became the best instructor in town and Kevin was in charge of instructing all the tourists who came from various countries around the world.
Today, Kevin runs his kayaking school. He teaches courses and sells quality equipment. Due to the great success of his school, he decided to establish Kayak News online magazine. A site for people from Canada and around the world to keep informed with the best of kayaking.
Here you can find interesting articles about how to improve your kayaking technique. Reviews about the new equipment that is coming to the market and the classic equipment that cannot be missed in your training. You will also find the best reviews about the boats you should use depending on your weight and age.
Kayak News is a responsible and high-quality online magazine. Kayak experts write all the information you will read here. Our mission is for you to become the best at kayaking and that you are a responsible athlete.
Kevin K. Howard understands the importance of kayaking responsibly, as it is an activitythat must be taken seriously due to its adventurous nature. It's not just about knowing how to paddle,but it is also important to know how to swim and learn first aid.
No previous knowledge of kayaking is necessary to enjoy this magazine. If you are just starting, here you can learn all the basic knowledge you need before you start practicing. Both professional andamateur kayakers are all welcome to Kayak News online magazine.
No doubt, this magazine will make you increase your passion for this activity that fills yourlife with adrenaline.