You get a lot of variety of kayaks on the market. However, not all of them turn out to be very good. Some don't provide the necessary stability or don't bring strong belts to guarantee a safe trip.
Below you can read a review of a kayak that is becoming the sensation of the moment. It's hitting sales and has the best reviews of any kayak model ever.
The Lifetime Hydros Kayak is perfectly designed for extreme stability. Its safety features are unbelievable. It is built with high-density polyethylene, which makes itdurable, impact-resistant, and best of all, it has UV protection.
It is also very easy to transport thanks to its lightweight 40-pound design and its front T-handle.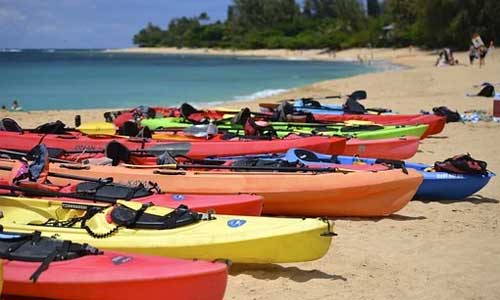 Specifications
Model 90594G.
Width 29.5 in.
Length 101 in.
Weight 37 lb.
Height 10.5 in.
Maximum Weight Capacity 225 lb. (102,0 kg).
Material High-Density Polyethylene (HDPE).
Assembled Size
Once assembled, the Hydrosreaches 101.1″ long and 29.5″W x 10.6″ height.
Features
Among the features, it's possible to get up to a 5-year limited manufacturer warranty, UV-protection, and multiple footrest positions. Also, the kayak is long-lasting and lightweight, has a stable flat bottom andadjustable quick-release seat back for comfort, center carry handle for easy transportation, and even comes with a paddle included.
Price
This small kayak model has proven to be fantastic. The reviews on all the sales pages are very good, and its low price of $370.00 makes it a nice deal. Besides, it is a great model to start kayaking.
If you are looking to change your kayak or buy another one, this is the one for you. Don't hesitate to buy it because it is economical for all the advantages it brings. If you want to go kayaking with your dog, your partner, or your children, this is the perfect kayak for you.